Commissions
 The art commission process begins with an initial consultation about size, design, and composition. A site visit is arranged, where room measurements are taken, or photos are provided. The next stage is the presentation of a room mock-up and a watercolour painting. Upon approval, the oil painting process will begin. Within two weeks you will be invited to the studio to preview the work in progress or be offered photos until the work is complete.
A fifty percent deposit is required to secure the transaction, the remainder is due upon delivery.
Commissions take one to two months to complete.
Installation and Fine Art Certificate of Authenticity is included.
Isthmus 36×48 inches oil on canvas, 2022

Testimonial: "My husband and I have been looking for a very long time for a statement piece of art that would would be peaceful yet vibrant. My husband really wanted a realistic approach to the painting, whereas I wanted to capture some abstract elements as well. Amelia found the perfect balance and we could not be happier with our beautiful painting! She was incredibly patient as we iterated on the piece and was open to our suggestions and questions throughout the process. We love and enjoy the work more and more each day and feel very fortunate to own a piece by this very talented artist. "Isthmus" — Rashmi and Paul, September 2022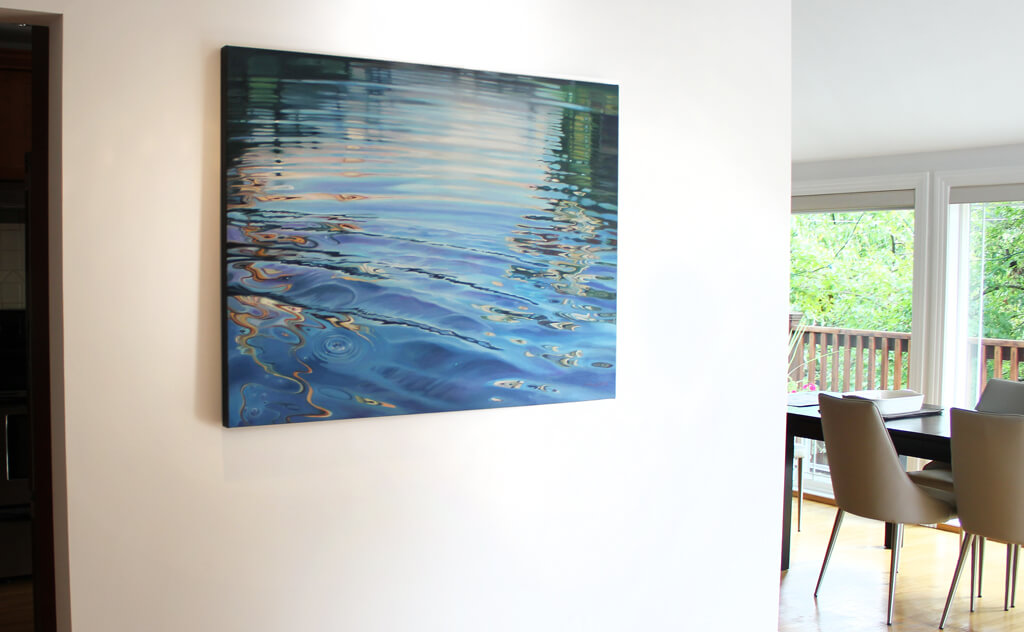 Rip Point 24×72 inches oil on canvas, 2021

This painting was inspired by boating and windsurfing around the Gulf Islands. The title and composition hint at the fierce power of our coastal waterways, tides, and rip currents. The precise colour palette was intended to balance the dark shadows of the Lawren Harris painting and the copper metallics in the MELT pendant by Tom Dixon. The water reflections mimic the psychedelic distortions of the molten glass. It has been added to a notable art collection in an architect designed home overlooking the Burrard inlet.

Testimonial: "From the onset of our commission "Rip Point" Amelia was amazing to work with.  She is incredibly thorough and spent time with us in our space so she could make an amazing piece of art that was just right for us.  I had very specific requests for colours and feel and she delivered.  We absolutely love our piece and see something new in the painting everyday." Alexandra & John, Feb 2022

Active Pass 30×40 inches, oil on canvas, 2021

Under the summer sun on Mayne Island. This began as a sketch on a picnic table at the historic lighthouse, overlooking Active Pass. A sparkling central reflection surrounded by warm golds. The colours representing summertime on the west coast—dry grass and Arbutus complemented by the cool tones of the ocean. A painting that reflects this client's maritime history and appreciation for these precious waters. It found its place under a skylight in their stunning home.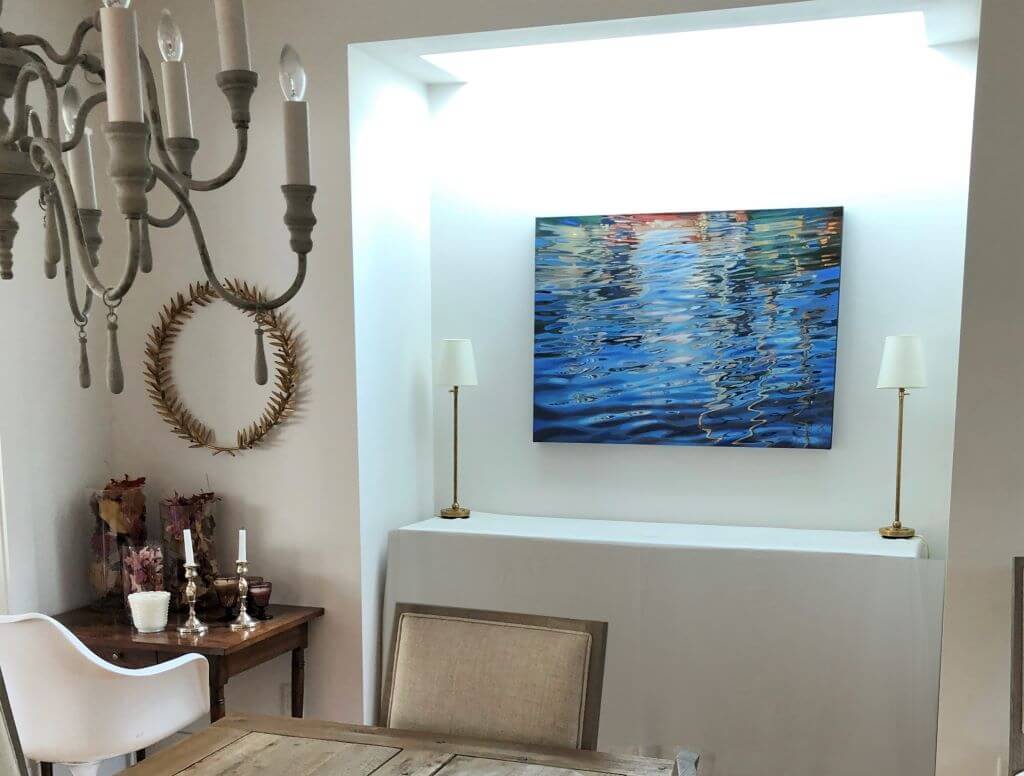 Ripple Rock 24×48 inches, oil on canvas, 2021
A custom painting for Toronto clients who wanted a painting to remind them of their summer vacations in the Ontario lakes district.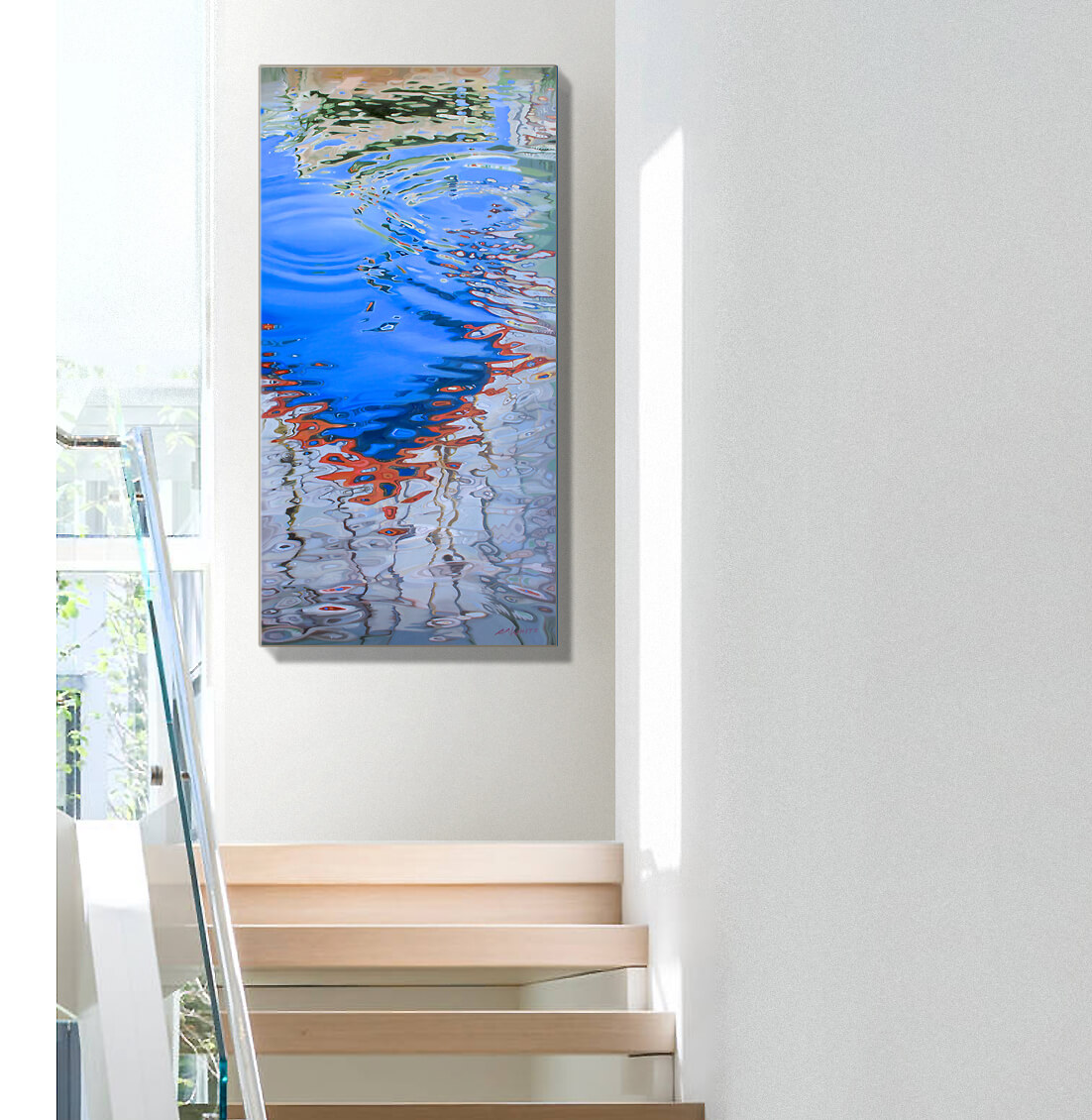 Eventide 30×48 inches, oil on canvas, 2020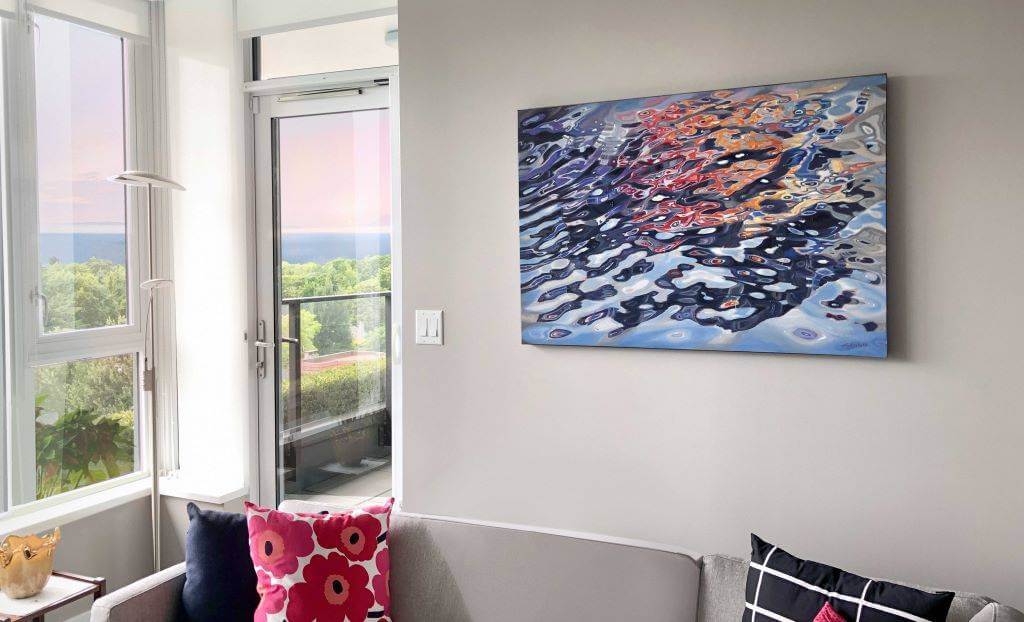 Shangri-La 48×72 inches, oil on canvas, 2020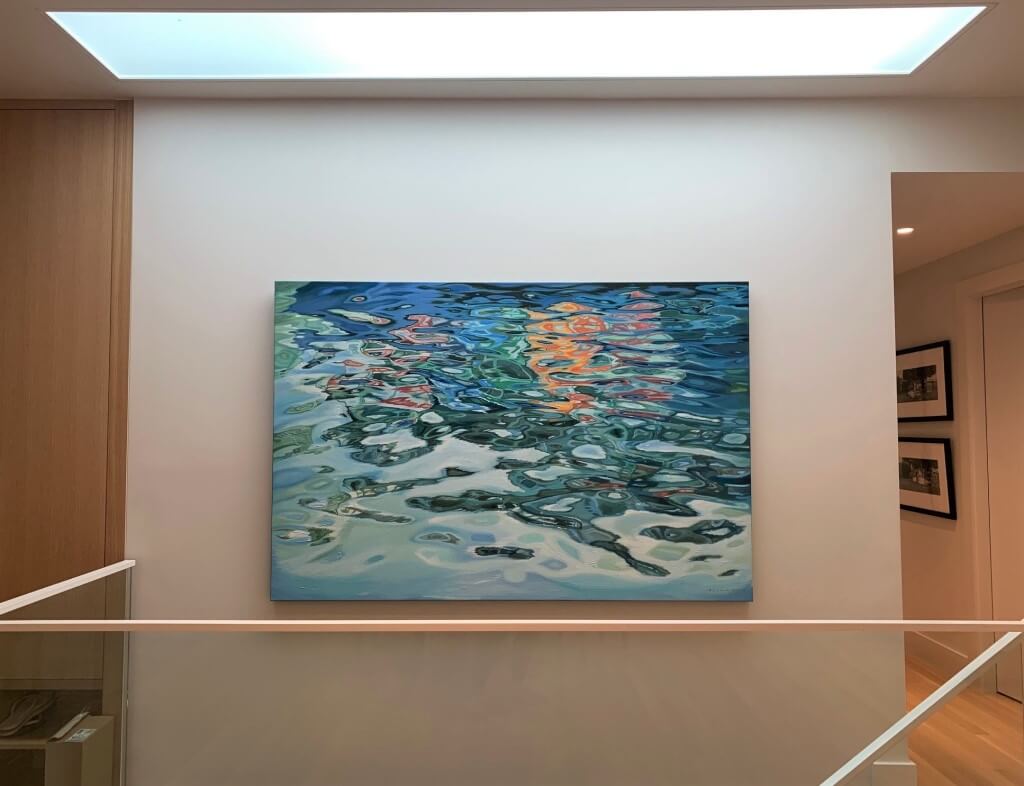 Tempo 36×48 inches, oil on canvas, 2020
Testimonial: "Amelia is a master at capturing the simple beauty of water. "Tempo" captures the reflection of the Granville Island water taxis in the ocean. Growing up near the water has created a fascination with how water constantly changes with the light, movement, and reflection. I also find it has an amazing calming effect." — Chantal,  August 2021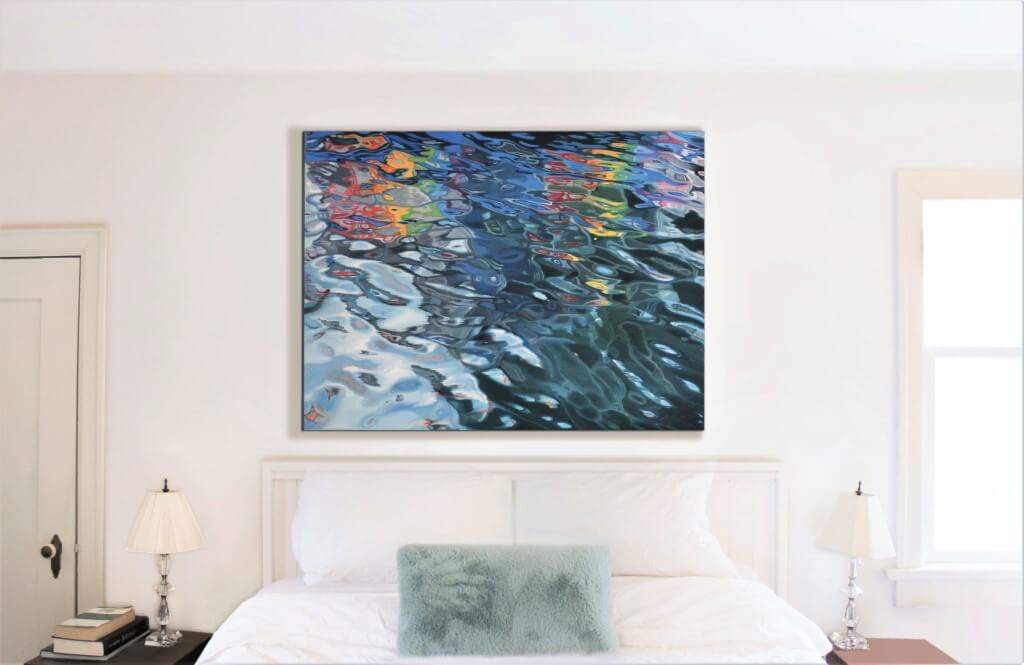 Quennell Lake 24×30 inches, oil on canvas, 2020
Testimonial: "Thank you so much for your beautiful art. I look at it every morning when I wake up in my bedroom. I have been admiring it for years and had magazines from your gallery. It feels surreal to have it in the house. I love it." — Steve